'The Talk' host admits that living with "invisible illnesses" takes an emotional toll.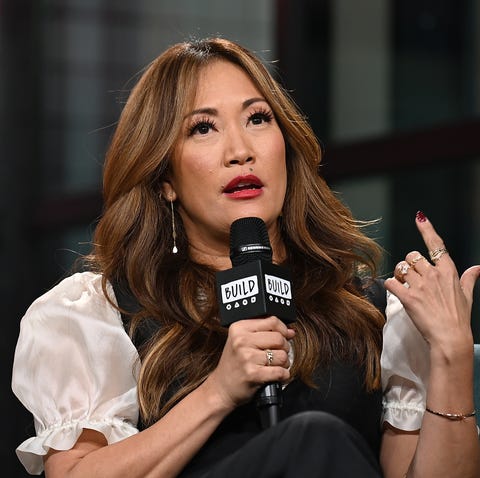 SLAVEN VLASIC
GETTY IMAGES
On Tuesday's episode of The Talk, Carrie Ann Inaba opened up about her struggles with multiple autoimmune conditions.
The Dancing with the Stars coach also opened up to her co-hosts about the emotional struggles and "shame" she feels about her battle with fibromyalgia.
She encourages others living with chronic or invisible illness to practice self acceptance and listen to your body during flare-ups.
---
Carrie Ann Inaba recently revealed that she is no stranger to chronic illness. The Talkco-host and Dancing with the Stars coach says she's living with a number of conditions, such as spinal stenosis, Sjögren's syndrome, chronic fatigue syndrome, chronic pain, and fibromyalgia.
Though Inaba, 51, appears bubbly and positive while discussing current events and pop culture alongside The Talk co-hosts Sharon Osbourne, Sheryl Underwood, Eve Jihan Jeffers-Cooper, she says the effects of battling autoimmune illness can take its toll, especially during a flare-up.
"I have all these autoimmune conditions, and I'm in a really bad flare," Inaba told her co-hosts on Tuesday's episode of The Talk. "I look healthy and I am really healthy—all things considered, but then I have these incredible sharp pains, like today [the hairstylist] was doing my hair and he barely touched me, but I thought he burnt me with a curling iron because my body is in a fibromyalgia flare."
On the outside, you may not have known that Inaba was fighting a flare or chronic illness, and she admits it takes a toll on her emotionally. "It sounds so silly, but people who have these like invisible illnesses—whether it's rheumatoid arthritis, or a gastrointestinal thing—I feel so much shame when I go through these things, because I want to be what people see. And people see a healthy person, from the outside."
What happens during a fibromyalgia flare-up?
Fibromyalgia is a condition marked by chronic pain, fatigue, memory problems, and mood changes, affecting around 4 million people in the U.S., according to the Centers for Disease Control and Prevention.
Doctors aren't entirely sure what causes the condition, but it tends to affect women more than men. Plus, the Arthritis Foundation reports that about 20 to 30 percent of people with rheumatoid arthritis also develop fibromyalgia, such as the case with Inaba.
at a time. These symptoms can come on suddenly or get worse when a person becomes stressed.
Other triggers like changes in diet, hormones, sleep, and certain treatments can cause a fibromyalgia flare-up, so keeping track of your triggers can help you prevent or alleviate flare-ups. Sometimes, your body may call for rest.
"It's embarrassing… sometimes you just can't get a handle on it, and it's sort of about self-acceptance," Inaba said. "I want to encourage people, because even though I feel shame, I know at the same time I shouldn't feel shame."
Today, Inaba practices yoga, listens to her body, and remains grateful for her health. "After struggling for years with neck pain from my spinal stenosis, from years of dancing and the injuries that came from it, I feel so lucky to be able to work out again, do my yoga, Pilates, and workout with a trainer," she wrote in an Instagram post. "Feeling grateful for my health and well-being. It's not something I take for granted."